Hello,
I just adopt a 5 months old dachshund.
He is adorable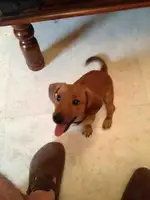 I m a first time owner to a dachshund.We have also Shih Tzu.She is almost a year old and they are really like each other.
Now we are trying to choose a name for him.
We are have two names:
Kenzo and Vito
Si what you guys think about both names.